Ayça Alemdaroğlu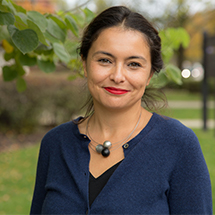 Dr. Alemdaroğlu (PhD, Cambridge, 2011) is the associate director of the Keyman Modern Turkish Studies Program and a research assistant professor of sociology. She teaches in the sociology, gender studies, and Middle East and North African Studies programs.
Her research and publications have engaged with a broad range of theoretical and ethnographic issues. These include youth culture and politics, gender and sexuality, constructions of space and place, experiences of modernity, nationalism, eugenics, and higher education. Much of her work concerns the ways in which social inequality is produced and reproduced through bodies, places, and institutions, and thus informs the experiences of ordinary people.
Before coming to Northwestern, Ayça was a postdoctoral fellow at Stanford University.  
Selected Work
"Spatial Segregation and Class Subjectivity in Turkey," Social and Cultural Geography (2016)
"The Global Trade in Higher Education: A tale of an American company in the Middle East," in Rethinking Private Education: Ethnographic Perspectives, edited by Daniele Cantini, Leiden: Brill (2016).
"Escaping Femininity, Claiming Respectability: Culture, Class and Young Women in Turkey," Women's Studies International Forum 53 (2015).
"Yabancı Şirketler, Özel Üniversiteler ve Yükseköğretimin Dönüşümü," in Yükseköğretimin Serbest Düşüşü: Özel Üniversiteler, edited by Serdar M. Değirmencioğlu and Kemal İnal, Istanbul: Ayrıntı (2015).
"From Cynicism to Protest: Reflections on Youth and Politics in Turkey," Jadaliyya(2013).
Knowing your place: Inequalities, Subjectivities and Youth In Turkey, University of Cambridge,  PhD dissertation (2011). 
"Öjeni Düşüncesi," Modern Türkiye'de Siyasi Düşünce: Milliyetçilik, İletişim (2009). 
"Eugenics, Modernity and Nationalism" in Social Histories of Disability and Deformity, edited by David Turner and Kevin Stagg, London: Routledge, 61-76 (2006).
"Politics of the Body and Eugenic Discourse in Early Republican Turkey," Body & Society11: 3 (2005).
"Bir 'imkan' olarak gençlik," Birikim 196, 21-30 (2005).
"Mynet'te Erkeklik Halleri" (with Neslihan Demirtaş),Toplum ve Bilim 101, 206-225 (2004).
See a full list of publications.
Courses 
Gender and Sexuality in the Middle East
Cities and Citizens in the Middle East 
Urban Inequality: A Global Perspective 
Politics, Protest and Youth