2016 Conference: Historical and Comparative Perspectives on Kurdish Politics
2016 Conference: Historical and Comparative Perspectives on Kurdish Politics
The Kurds are one of the world's largest ethnic groups without a state, constituting sizable minorities in Turkey, Iran, Iraq and Syria.
They have recently become prominent in world politics due to their fight against the Islamic State in the midst of Syria's civil war. Yet until now, their history has largely been one of marginalization, oppression and resistance across borders.
It is estimated that about half of world's more than 30 million Kurds live in Turkey, where they have struggled for self-governance through parliamentarian politics and armed conflict for more than 30 years. The three-year peace talks between the Turkish State and the PKK (Partiya Karkerên Kurdistanê, the main armed group of the Kurds) were terminated in July 2015 by the Turkish state, leading to yet another cycle of violence.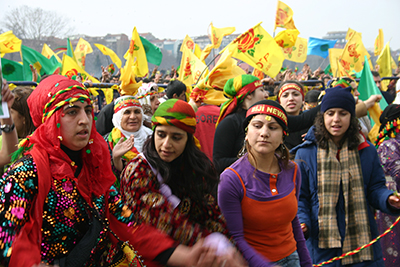 Hundreds of civilian casualties, thousands of displaced Kurds, and terrified Kurdish and Turkish societies thus joined the long history of violence and deprivation in Turkey.
This international conference brought together cutting-edge research examining the last hundred years of Kurdish existence in the Ottoman Empire and the Turkish Republic in a historical and comparative perspective. 
Wednesday, 2 November
1:30–2:30 Welcome and Introductory Remarks
Ayça Alemdaroğlu, Northwestern University
Fatma Müge Göçek, University of Michigan
2:30–4:15 PANEL I: Kurdish Formations and Transformations through History
Chair: Başak Taraktaş, Northwestern University
Djene Bajalan, Missouri State University, 
The Movement in the Provinces: Tribe and Nation in the Late Ottoman Period (1910-1914)
Cevat Dargın, Princeton University
United Kingdom and the Kurds during World War One: A Critical Analysis of British documentary sources: 1914-1920
Janet Klein, University of Akron
The Construction of Minorities in Kurdish-Ottoman Journals
Kemal Soleimani, Columbia University
Non-Muslim Neighbors and Sheikh Ubeydullah's Uprising
4:30–6:15 PANEL II: Theorizing Entangled Nationalisms
Chair: Marina E. Henke, Northwestern University
Kumru Toktamış, Pratt Institute
Nationhood as Dialogical Entrenchment: Shifting discourses of Turkishness and Kurdishness
Susan Benson-Sökmen, University of Toronto
"The Dream of Kurdistan is Buried Here": Re-reading Kurdish Nationalism as a Critique of the Nation-state
Nicholas Glastonbury, CUNY
Jumping off the Bandwagon: Towards a Local Epistemology of Kurdish Politics
Thursday, 3 November
8:45–10:30 PANEL III: Strategies of the Turkish State: violence and displacement
Chair: Sinan Erensu, Northwestern University
Zeynep Yokmaç, Boğaziçi University
Displacement and the Strategies of Sovereign Domination in the Kurdish Region in Turkey
Gevorg Petrosyan, Institute of Oriental Studies, National Academy of Sciences, Armenia
'Kurds against Kurds': The system of 'Village Guards' (Korucus) in Turkey
Michael Ferguson, SOAS University of London
Kurds in the History of Displacement in İzmir
10:45–12:30 PANEL IV: Strategies of Kurdish Resistance
Chair: Fatma Müge Göcek, University of Michigan
Amy Bartholomew, Carleton University
Far From Separatist or Undemocratic Violence: The 2012 Kurdish Political Prisoners' Hunger Strike in Turkey
Delal Aydın, SUNY Binghamton
Friendship as a Political Concept: Kurdish Youth Politics in the 1990s
Nazan Üstündağ, Boğaziçi University
The Mother, the Politician and the Guerrilla: Figures Who Tell the Truth in the Kurdish Anti-Colonial Struggle
Haydar Darıcı, University of Michigan
From Stone Throwing Children to the Self-Defense Units: A Recent History of Kurdish Youth Politics in Kurdistan
1:30–3:15 PANEL V: Kurdish women's mobilization and resistance across borders
Chair: Jessica Winegar, Northwestern University
Emine Rezzan Karaman, UCLA
Silencing Historical Traumas versus Constructing Resistance Narratives: The Saturday Mothers and the Peace Mothers in Turkey
Hazal Atay, EHESS
Feminization of Kurdish Politics, Politicization of Kurdish Women: Women Assemblies and the Co-Presidency System
Nisa Göksel, Northwestern University
Struggle in Exile: Kurdish Women's Political Mobilization across Borders
3:30–5:15 PANEL VI: Spatial perspectives and contestations in borderlands
Chair: Emrah Yıldız, Northwestern University
Fiona Adamson, SOAS University of London
Multi-Scalar Politics and the New Geography of Turkey's Kurdish Conflict
Dilan Okçuoğlu Queen's University
From the Geopolitics of Violence to Actors at the Borders: Rethinking the Kurdish Conflict at the Local Level
Fırat Bozcalı,Stanford University
Naif Bezwan, Mardin Artuklu University
Defining Self-Rule within the New Political Geography of Kurdistan
Friday, 4 November
8:45–10:15 PANEL VII: Remembering, Commemorating, and Theorizing Violence
Chair: Burçak Keskin Kozat, Stanford University
Avital Livny, University of Illinois
Ethnic Diversity in Turkey: An Empirical Reassessment
Şefika Kumral, Johns Hopkins University
Democracy and Violence: Anti-Kurdish Communal Violence in Turkey
Bağlan Deniz, Koç University
Martyrdom, Sacrifice, Impossibility of Community
Kaya Akyıldız, Bahçeşehir University
A Memory of Their Own: An Exegesis on the Formation of Kurdish Political Memory in Contemporary Turkey
10:30–12:15 PANEL VIII: Kurdish Autonomy in the new Middle East
Chair: Wendy Pearlman, Northwestern University
Seevan Saeed, University of Exeter
Kurdish National Movement in the North: From State Building to Nation Building
Cuma Çiçek, Mardin Artuklu University
Limits of the Conflict Resolution Process in Turkey (2013-2015)
Hüseyin Raşit, Yale University
An Ethics of Violence Based on Practice: The Rojava Revolution
1:00–2:00 Concluding Remarks
Hamit Bozarslan, EHESS
Kurdish Issue, Kurdish Studies: A General Overview