2017 Conference: Law and Politics in Turkey
2017 Conference: Law and Politics in Turkey
As Turkey witnessed fundamental legal changes in the last two decades, few aspects of the law were left untouched by reform packages enacted in the name of IMF conditionality, EU harmonization or democratization. In addition to the changing laws and regulations, a series of institutional changes aimed to achieve a more efficient, transparent, democratic and accessible judicial system. All the reform waves, however, have ended in a spiral of authoritarianism, and eventually a dragging state of emergency.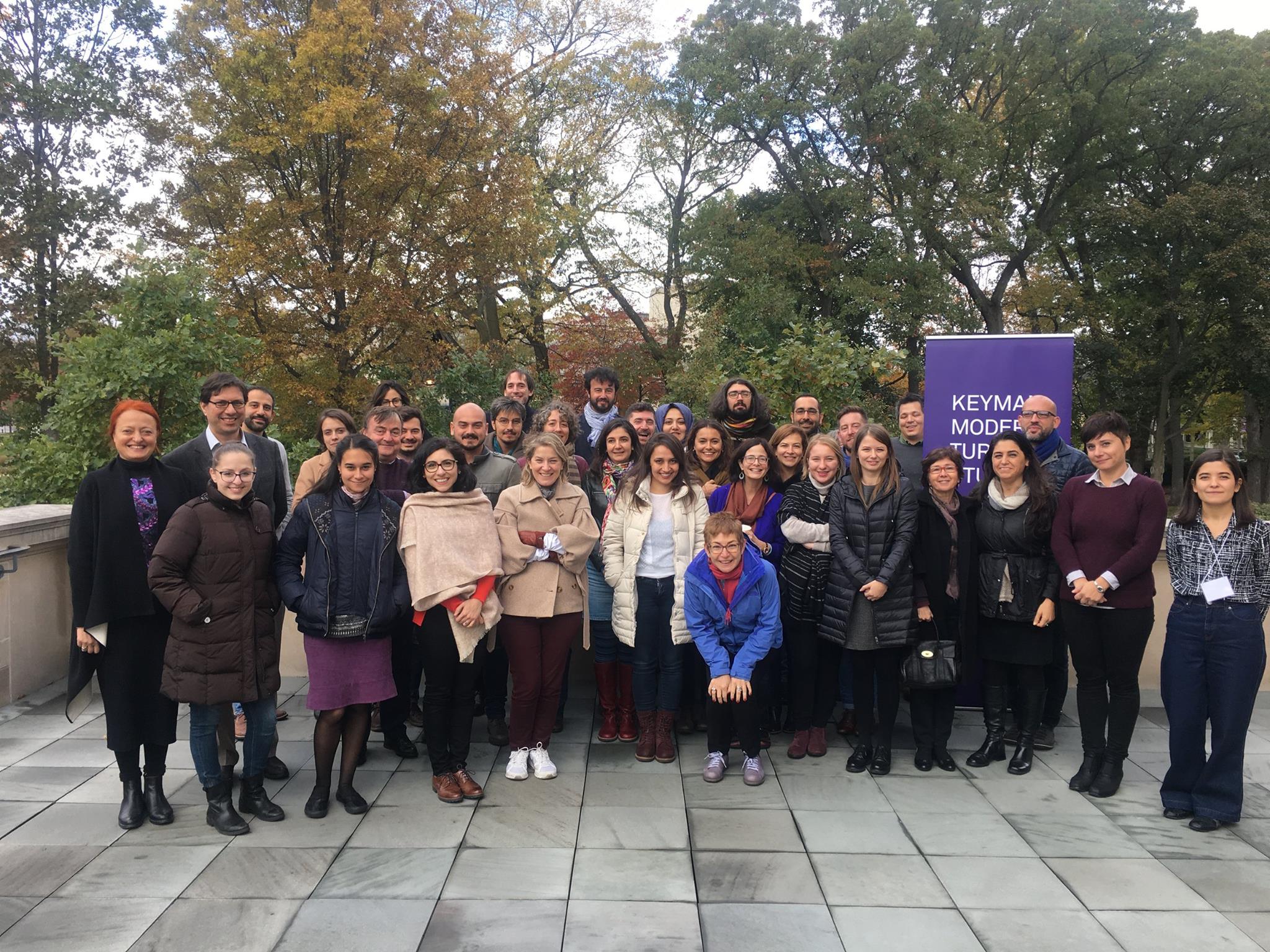 How did Turkey get here? Answering this question required scholars to (re)conceptualize the relationship between law and politics at this historic juncture. This conference took on the challenging task to trace the twisted path from reform to emergency. 
We thank all the presenters, including our keynote speakers Asli Bali (UCLA), Larry Diamond (Stanford), and Hakan Topal (SUNY) for their participation.
Thursday, 26 October
9:30–10:00 Welcome
Bruce Carruthers, Director, Buffett Institute for Global Studies
Ayça Alemdaroğlu, Associate Director, Keyman Modern Turkish Studies Program
Sinan Erensü, Keyman Postdoctoral Fellow
10:00–10:45 From Reform to Emergency: The Use and Abuse of Constitutionalism in Turkey's Political Trajectory
11:00-12:45 PANEL I: Authoritarianism, Past and Present
Chair: Rachel Beatty Riedl, Northwestern University

Simon P. Watmough (EUI) and Ahmet Erdi Öztürk (Strasbourg)
The Dialectic of Failed Democratization and the State of Exception: Turkey's Current Authoritarian Turn in Comparative–Historical Perspective
İpek Çınar (University of Chicago)
Turkey's Constitutional Process to the Authoritarian Reversal
Bilge Yabancı (Stockholm)
Building Authoritarianism from Below: Strategic Repression and Co-optation of Civil Society in Turkey
Güldeniz Kıbrıs (Leiden)
Turkey's Authoritarian Journey through Turkish Penal Code: 1945-1960s Istanbul
1:45–3:30 PANEL II: Reform and Emergency
Chair: İpek Yosmaoğlu (Northwestern University)
Başak Taraktaş (Northwestern University)
Understanding Reforms and Constitutional Changes: An Historical Perspective
Mert Arslanalp (Boğaziçi) and T.Deniz Erkmen (Özyegin)
Mobile Emergency Rule: Protest, Law, and Authoritarian Consolidation in Contemporary Turkey
Yeşim Arat (Boğaziçi)
Liberal Means for Conservative Ends: The Gender Perspective on the AKP's Authoritarian Trajectory from Reform to Emergency Rule
Elif Babül (Mount Holyoke College)
Managing Reform through Emergency: Politics of Hospitality in Turkey
3:40–5:10 PANEL III: Legal Ambiguity, Political Control and Contention in Urban Turkey
Chair: Ayça Alemdaroğlu (Northwestern University)
Deniz Yonucu (Leibniz- ZMO & Freie University)
Law, Fate and Ambiguity: Looking at Turkey's Anti-Terror Law from the Urban Margins
Özgün Rüya Oral (METU)
Urban Transformation Story in GOP: Community Consciousness against the Legal Ambiguity
Alp Kanzık (Boğaziçi)
Law, Uncertainties and Urban Policy: The Curious Case of Istanbul's Urban Rail Transit
5:15–6:00 | Rethinking the Possibility of Justice Through Art
Hakan Topal
, 
SUNY-Purchase
Friday, 27 October
8:30–10:15 PANEL IV: Impunity
Chair: John David Marquez (Northwestern University)
Onur Bakıner (Seattle University)
Sources of Impunity in Turkey
Özgür Sevgi Göral (Hakikat, Adalet, Hafıza Merkezi)
Failed Reconciliation, Impossible Justice: The Case of Temizöz and Others
Hayal Akarsu (University of Arizona)
Policing the Police: Law, Reform and Questions of Impunity in Turkey
Jessica Mecellem (University of the South, Sewanee)
Domestic Human Rights Trials as Venues of Narrative Contestation: Enforced Disappearances of the 1990s
10:30–12:15 PANEL V: Politics of Courts/Courtrooms
Chair: Levent Köker (Northwestern University)
Serra Hakyemez (Brandeis)
Defense Found Irrelevant: The Politics of Legal Procedures in Anti-Terror Courts
İdil Elveriş (Bilgi)
Seven Years of Reform, Capture and Control: The Council of Judges and Prosecutors in Turkey
Melike Arslan (Northwestern University)
The Politics of Postponing Bankruptcy and Saving Small Businesses in Turkey
Yalçın Özkan (UMass)
Righting a Wrongful Death on the Job: The Politics of Fatal Work Accident Lawsuits in Turkey
1:30–3:00 PANEL VI: Legality/Extralegality
Chair: Jackie Stevens (Northwestern University)
Erol Sağlam (U. London-Birbeck)
How do Men Embody the State? Conspiracies, Hunts for Terrorists, and Extralegality in Contemporary Turkey
Fırat Bozcalı (Stanford)
The Unresolved: Killings, Criminal Investigation and the State Illegibility across Turkish-Iranian Border
Senem Aslan (Bates College)
A Merciful State? Political Amnesties in Early Republican Turkey
3:15–4:00 | Illiberal Populism and the Drift to Authoritarian Rule
4:15–5:45 PANEL VII: Turkey's authoritarianism in a comparative perspective
Chair: Sultan Tepe (University of Illinois at Chicago)
Z. Umut Türem-Saygun Gökarıksel (Boğaziçi)
Formations of Law and Authoritarian Populism in the Peripheries of Europe
Berk Esen (Bilkent)
Conservative Populists in Europe's Periphery: Erdoğan's Turkey and Orban's Hungary
Didem Türkoğlu-Charles Kurzman (UNC)
Unkept Promises: Election Manifestos and Institutional Transformation
Saturday, 28 October
8:30–10:15 PANEL VIII: Media, Politics, and Law
Chair: Leyla Neyzi (Northwestern University)
Murat Akser (Ulster)
Understanding Media and Politics in Turkey: A Historiography of Fear and Opposition
Nazlı Özkan (Northwestern University)
Mediating Legislative Governance: Televisual Activism of the Alevi Minority in Turkey
Ali Sonay (Cambridge)
Liberalizing and Non-Regulating the Radio Sector in Turkey
Nazlı Bulay Dogan (University of Pennsylvania)
The Authoritarianism Trend Within the Field of Information and Communication Technology in Turkey: The Blurring of the Boundary Between Legal and Extralegal in Hacktivism Cases
10:30–12:00 PANEL IX: Gender, Violence, Law
Chair: Emrah Yıldız (Northwestern University)
Nazife Koşukoğlu (Boğaziçi)
Rule of Law and Masculine Prerogatives: Honor Killings as Normalized Exceptions in the Legislative and Judicial Fields of the State in Turkey
Esen Ezgi Taşçıoğlu (U. Birmingham)
States of Exception: Legal Governance of Trans Women in Urban Turkey
Aslı Zengin (Harvard)
Queer Calculations of Justice: Hate Crimes, the Criminal Law and Transgender Lives in Turkey
1:30–3:00 PANEL X: Environmental Politics and Dispossession
Chair: Sinan Erensü (Northwestern University)
Erdem Evren (Toronto)
(Il)legalities of Dispossession: From Political Society to Entrepreneurial Society?
Ayşen Eren (Boğaziçi)
An Instrument of Political Power: The Environmental Impact Assessment Regulation in Hydroelectricity Development in Turkey
Yaşar Adanalı (TU Berlin)
Strategic Litigation for the Making of Neighborhood Politics in Turkey vis-a-vis "the Disaster Law"
3:15–4:30 Closing Session
Levent Köker, Northwestern University