2021 Conference: Queer Conditions/Kuir Haller: Social and Political Change in an Age of Authoritarianism
2021 Conference: Queer Conditions/Kuir Haller: Social and Political Change in an Age of Authoritarianism
Each year, the Keyman Modern Turkish Studies Program brings together scholars from around the world to discuss some of the most pressing issues facing Turkey from a global perspective. This year the conference's focus will be on Queer and Gender Studies.  The primary aim of the conference is to engage with the global debate taking place on intersectionality.  More specifically, we are interested in analyzing the role of gender identity and dynamics in facilitating the reproduction of power structures, and in the mobilization of historically marginalized groups seeking to expose, challenge, and ultimately dismantle those structures.   By examining emergent forms of these justice-seeking struggles, the conference this year will direct the scholarly gaze on shifting relationships and opportunities for political action in a deeply polarized Turkey. 
Feminist scholars of modernity have repeatedly revealed the gendered assumptions that underwrite the abstract citizen as the building block of society. By "sexing" the supposedly unmarked subjects and unmasking their socio-political conditions, we can productively interrogate the normative assumptions of other individuating axes of difference such as race, ethnicity, class and geography. By historicizing patriarchal heteronormativity, we can start to undermine its dominance in our readings of the past and shape current narratives of power.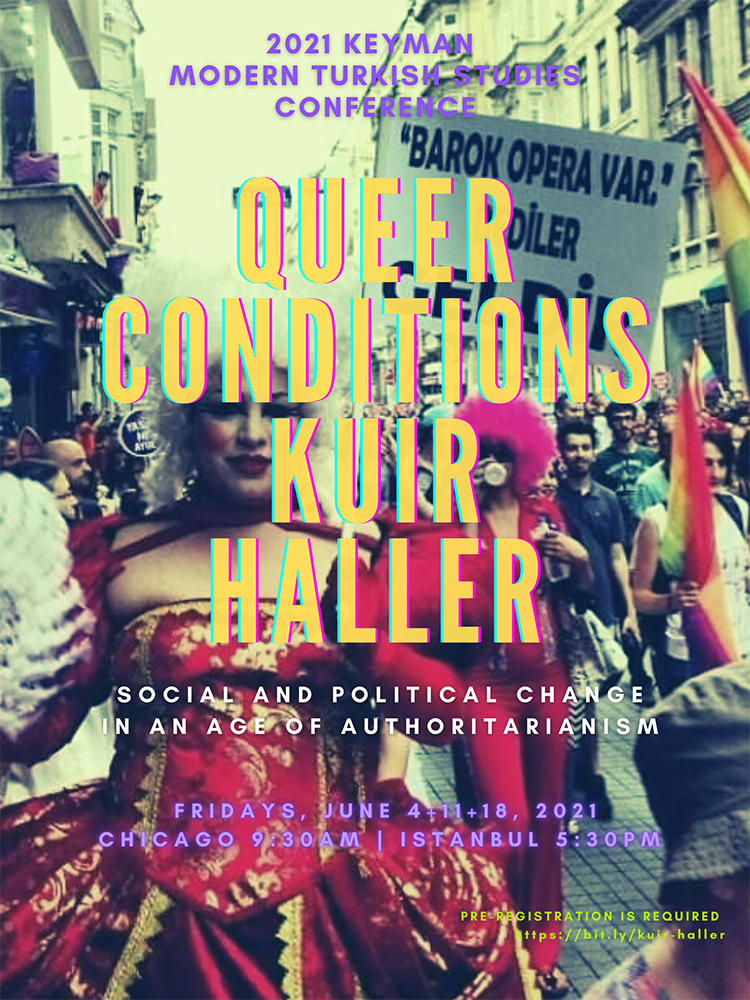 Some of the questions we seek to answer are:  What are the conditions facing queer, feminist and other sexed subjects in contemporary Turkey? How did Turkey get to its current state after the Gezi protests that showed arguably the most intersectional politics in action in the country's recent history? How could attending to these queer conditions help us approach the study of Turkey anew? At a time of profound transformation, framed by graduated authoritarianism and shrinking freedoms in the country, how could sexing the study of Turkey enrich our understanding of its history and its present?
While the geographic focus will be on Turkey, we think of Turkey as a historical reference point, in geographically, culturally and ethnically flexible terms—and not Turkey as nation state with the attendant definition of Turkishness. We encourage further discussion with scholars who specialize in the study of Turkey's contemporary diasporas and ethnic minorities, its broader Middle Eastern and Eastern European context, and other socially and politically cognate regions.
Conference Schedule
Queer Conditions | Kuir Haller I   - Friday, June 4, 2021
Discussants:

 

Ipek Yosmaoğlu & Emrah Yıldız, Northwestern University
Anatomy of Love and Desire in the Late Ottoman Empire |

 

Seçil Yılmaz, Franklin & Marshall College
Anachronistic Views of Ottoman Sexualities in Republican Turkey |

 

İrvin Cemil Schick, Ecole des Hautes Etudes en Sciences Sociales (Paris) 
Queering the Renaissance with the Ottomans |

 

Abdulhamit Arvas, University of Pennsylvania
How is Queer Understood in Turkey? |

 

İpek Şahinler, University of Texas at Austin
Archiving Religious Piety, Activism, and Trans Identity: Towards a Post-secular Transfeminism in Turkey |  

 

Şahin Açıkgöz, University of California, Riverside
Queer Conditions | Kuir Haller II   - Friday, June 11, 2021
Discussants:

 

Kerem Öktem, Ca' Foscari University of Venice &

 

Evren Savcı, Yale University
"Cemetery for the Unknown:" The Material Deathscape of Gender, Ethnic and Religious Margins in Turkey |

 

Aslı Zengin, Rutgers University-New Brunswick
Re-orienting Self-defence: Kurdish Politics and Queer Anti-Racist Struggle(s) |

 

Hakan Sandal-Wilson, University of Cambridge
Queer and Non-Citizen in Times of Crisis: LGBTQ Refugees in Turkey |

 

Elif Sarı, Cornell University
Can and Deviant Attachments: Sexuality, Faith, and Minority Belonging in Turkey |

 

Ali Yıldırım, University of Minnesota
Queerly Allied: From Ankara Governorship LGBTI Bans to KuirFest Berlin | Esra Özban, University of California, Santa Cruz
Queer Resistance and Bodies in Alliance: Banned Pride Marches in Istanbul (2015-2019) |

 

Onur F. Özben, Lund University
Queer Conditions | Kuir Haller III   - Friday, June 18, 2021
Discussants: Nadje Al-Ali, Brown University & Cenk Özbay, Sabancı University 
Reading Rainbows: Children, the LBGT movement and economies of perversion in Erdogan's Turkey |

 

Emrah Yıldız, Northwestern University
A Multi-modal Critical Discourse Analysis of Queer Subjectification in Contemporary Turkey |

 

Eser Selen, Kadir Has University
Embodiments of Resistance: Queering the Spaces of Nightlife in Istanbul through bodily Interactions |

 

Aslı Kobaner, Istanbul Technical University
Fragments of Gender in the "State Effect": Documenting Mental Damage in Cases of Sexual Assault |

 

Tuğçe Ellialtı-Köse, Trent University 
Solidarity Work and Political Action Among the Syrian Women in Southern Turkey |

 

Seçil Dağtas, University of Waterloo
Break
Queer Conditions | Kuir Haller: ROUNDTABLE